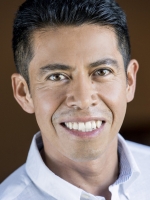 Francisco Clara
Diploma of Remedial Massage
Services

Esoteric Healing
Esoteric Connective Tissue Therapy
Remedial Massage

EPA Recognised Level*

Level 2 Esoteric Healing

Clinic:

Universal Medicine Clinic

About

Francisco is a professionally qualified Remedial Massage and Bodywork Therapist with a personal passion for true health and wellbeing. Highly skilled in a number of specialised massage applications and techniques with a professional experience of over 10 years. He brings with him a fresh, holistic, caring and complementary approach to the therapies he offers.

Over the years Francisco has developed an interest in the field of men's health, successfully combining his knowledge and experience as a professional massage and specialised bodywork therapist with regular presentations on the topic of men's health as well as wellbeing courses in the community.

Francisco is a passionate, caring and dedicated practitioner, supporting clients with their general health,and and quality of overall wellbeing within their bodies.
* The Esoteric Practitioners Association (EPA) is a branch of Universal Medicine. It was instigated by Universal Medicine to support the development of the practitioners who practise the modalities that were founded by Universal Medicine. The EPA is based on religious principles, esoteric practices and The Ageless Wisdom, as taught by Serge Benhayon and Universal Medicine.