Danielle Pirera's story - Before and After Universal Medicine in Photos.
by Danielle Pirera
VIEW THE SLIDESHOW ABOVE.
For a transcript of the slideshow see below.
This is my story of how I re-discovered 
the true, gentle and delicate me, with 
the support of Serge Benhayon, Sacred Esoteric Healing 
and Universal Medicine

.
From a very young age I played every sport possible, including netball, basketball, little athletics, swimming and even AFL football. I was the fastest or best at everything and I learnt that I could gain confidence or feel better about myself by winning or becoming better.
I became a 'tom boy' and developed a very athletic, hard and strong body by the age of 10.
In 2002 on my 21st birthday I did a 90 min triathlon at 6am, then went out in the evening and partied hard.
Between 1995 to 2000 I dislocated my shoulder 6 times playing basketball, I eventually quit basketball, and took up triathlon's instead…
By 2004 triathlon's and half marathon running wasn't challenging enough, so at age 23 I started adventure race's, up to 24 hr long.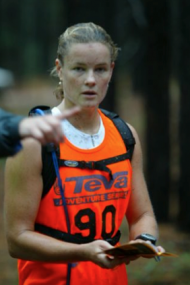 The adventure racing seemed fun at the time….In the first half of the race I was smiling but what was the impact 6 hours in?
Photo to the left: Six hours into a mountain running, mountain biking and kayaking orienteering race – the map was not going to help me…I was well and truly lost.
Eventually adventure racing didn't keep me busy or challenged, so in 2005 at age 24 I started to focus on developing my surfing.
By 2006 I had started a PhD in surfing physiology, worked at Surfing Australia High Performance Centre and travelled the world speaking at conferences in exotic surf locations
By age 24 I had developed a trim and toned body and I still drank a lot of alcohol. I surfed at sunrise and partied late into the night…. I thought I was living 'the life'.
Partying and surfing big surf around the world I got strong, tough and robust – but for a 24 year old woman I was quite hard and masculine.
Although I was living the the ideal life, I still had a sense of dis-ease.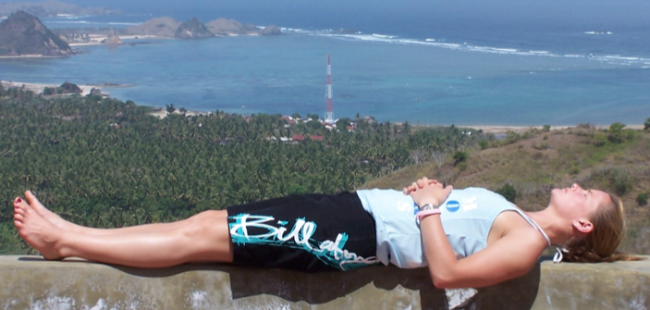 Look close at the photo above, I have a frown. I remember this clearly, 1 month in an exotic location to surf and rest with friends but I was upset, alone & confused, I didn't know why I was feeling this way…something was missing and things began to change.
At this time I began to look around for something more from life.
I had drained all my sources of what I felt would make me feel better, satisfied or content with life.
For a short period of time my life became a little more reckless, partying harder, trying drugs or going on three to five day benders – thankfully this did not last long.
This is when I came across Universal Medicine and Serge Benhayon.
Around this same time I dislocated my shoulder in 10 foot surf, on 3 foot of water on a coral reef. In the past I would have laughed at something like this, but this time I stopped.
Universal Medicine was presenting something different to me – I saw Serge Benhayon and others living a more honoring and self respectful life – I began to change – I realised that I was living a reckless life, to try and feel satisfied or content with myself.
With the support of Universal Medicine I discovered that if I connect deep within myself I could feel that I was already naturally very special and precious, no matter how I looked, what I accomplished or what work or recognition I achieved.
From this point forward life began to change. I began to feel that I was already enough and it was time to take care of and love me.
I now feel and know myself as a precious and glorious woman – not a working machine to constantly improve to achieve more. 
Can you see the change? It appears that I have de-aged. (see the above slideshow for all the images.)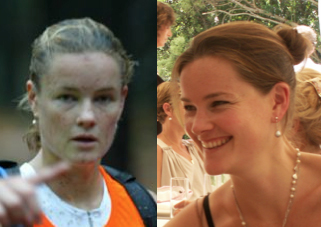 My body has changed – it no longer fits the 'ideal' of a super lean, trim and toned body. Instead it is much more womanly, I feel much more precious, and I feel to dress different because I have greater 
respect and care for my body.
The way I move and hold my body now, is with much more care, gentleness, tenderness, playfulness and adoration.
I now feel the beauty-full woman that I am, the love that I am and the love that is all around me – I truly love me. No more need to seek fulfillment on the outside, only to end up lost. Instead there is Joy in my life – by connecting within and being me.
The Joy and Beauty I have discovered within, is now starting to reflect back to me in my whole life - work, family and friends.
Thank you Universal Medicine and Serge Benhayon 
for inspiring me to connect within.