Universal Medicine: Complaints against the College of Universal Medicine Dismissed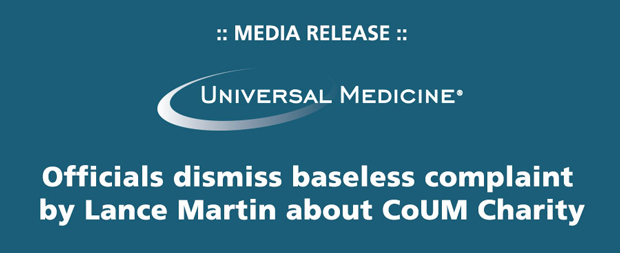 The College of Universal Medicine (CoUM) has been vindicated, with the baseless complaint made against it by Bangalow resident, Lance Martin being dismissed. The Office of Liquor, Gaming and Racing (OLGR) the government office responsible for charities in NSW, stated that their enquiries –
"Did not disclose any evidence to suggest the CoUM had breached the Charitable Fundraising Act 1991 or conditions attached to its charitable fundraising authority."
The College of Universal Medicine is a newly formed Charity that 'is dedicated to promoting true health and well-being based on the teachings of the Ageless Wisdom...by founding a metaphysical school and conducting workshops, lectures and courses and an extensive publishing program.'
The complaint against the College of Universal Medicine was the most recent of a round of vindictive complaints initiated by Lance Martin, as part of his vengeful crusade to 'bring Universal Medicine down'.
Lance Martin and Esther Rockett are what observers might assess to be serial vexatious complainants as the initiators of 20 plus unsupportable complaints to government authorities all made in quite a short amount of time, largely repeating the same tired invective. The complaints can all be traced directly or indirectly to the activity of Lance Martin.
Jane Hansen of the Sunday Telegraph chose to ignore clear warnings as to the veracity of her sources, choosing to report what were essentially lies concocted by Lance Martin to support a complaint against the College of Universal Medicine. She wrote a damaging story based on the lies contained in Lance Martin's baseless complaint, treating those complaints as if they were fact. It seems that Jane Hansen was unable to differentiate between what can only be considered allegations and what are actual facts. Her conduct in this regard has been brought to the attention of the Australian Press Council (APC).
The College directors and Serge Benhayon (who is not a director of the College) had no doubt that the contents of the complaint against the College of Universal Medicine would be found to be without merit and had been concocted to suit Lance Martin's malicious personal agenda. The editor of The Sunday Telegraph had been warned by the College prior to publication that Lance Martin was not a reliable source and had a 'predilection for making serial groundless vexatious complaints'. The College had informed the Sunday Telegraph that:
'The regulators have dismissed every single one of their past complaints, not for want of jurisdiction to investigate a deserving complaint but because the regulators determined that the complaints were groundless. The complaints to the Office of Fair Trading and the Office of Liquor and Gaming are simply the last of these. …'
Serge Benhayon had warned Jane Hansen that the complaint would be found to - 'be nothing more than trumped up allegations'.
Serge Benhayon had informed her - 'there is no untoward personal gain whatsoever for me. In fact, there is personal loss for the sake of true Charity'.
Indeed Serge Benhayon's activities and donations to the charity far exceed any possible business advantage. Universal Medicine had donated previously commercial activities to the fundraising activities of the college, and CoUM is a properly run charity which is a separate and distinct organisation with its own financial charter.
However, Jane Hansen chose the fabrications of a known cyber-bully and serial complainant as the source for her ridiculous story. She replicated Lance Martin's lies in her article and her editor ignored the clear warnings and published a story with significant bias. There was plenty of available evidence for the journalist to draw on to create balance in what she presented – Hansen chose to ignore it.
The print article repeated the false allegations from Lance Martin's fabricated complaint, inferring that Serge Benhayon and his business Universal Medicine were rorting the charities regulations and gaining financially from that. This has of course turned out to be a complete fabrication, on investigation by the OLGR and the ACNC there was found to be nothing to investigate.
The College of Universal Medicine and Serge Benhayon have made separate complaints to the APC about Jane Hansen's story because it reflects a complete departure from the most basic of journalism standards requiring fairness and balance in reporting.
The College responded to the decision with the following comment:

'The dismissal of the complaint confirms what we have known all along. Martin and his group are throwing lies at the College because they have nothing else in their packs. This was Martin's big shot at denting the College and he fell flat on his face – simply because everything about the College is true and reflects its commitment to serving the community.
The College will continue rolling out courses and community events that address the questions and dilemmas that confront society today, from the perspective of the Ageless Wisdom teachings, in a very real, down to earth and practical way. The courses will resonate very deeply with people even if they'd never heard of the Ageless Wisdom or were overtly drawn to this sort of thing.'
This latest complaint simply adds to Lance Martin's and Esther Rockett's catalogue of complaints over a short period of time that have been dismissed, some without any investigation whatsoever, and suggests that the group have been willing to exploit legitimate government processes with matters that are quite simply wasting valuable resources and making a mockery of official complaint channels. Effectively, Lance Martin and Esther Rockett have again lied to a government agency they abuse through their personal vendetta campaign.
Alison Greig, who is engaged in the charitable activities of the College, has suggested that 'it is perhaps time for official processes to be initiated to halt this outrageous abuse of government complaints procedures and this waste of public resources, time and money.'
Serge Benhayon today repeated calls for the Sunday Telegraph to retract their story and issue an apology to the College of Universal Medicine and himself, stating that:
'it is a case of I told you so. Lance Martin, who Universal Medicine FACTS pushed out of the cowardice cloak of anonymity, made it look like he came out of hiding to tell his big 'nail in the coffin' story. Well, like all of Lance Martin's allegations, concocted stories do not fool decent and intelligent people. The Government of Australia should not be used and abused by the unresolved marital issues of a Bangalow resident.'
With regard to Jane Hansen the journalist responsible for printing Lance Martin and Esther Rockett's concocted stories in the Sunday Telegraph, I wrote the following before the callous article was written, making sure that Jane Hansen was left with no doubt as to my position with regard to the lies and the characters she is relying on for her sources;
by email 20th June 2014:
'If the accusations made by Lance Martin and his various mouthpieces are true, then why place so much effort into anonymity and real character describing pseudonyms? Use link for the facts -- http://universalmedicinefacts.com/lance-martin-exposed/
As for Ms Rockett, she is now re-badged as a 'health care activist'. Be whatever name she seeks excuse in she cannot erase a 2-year digital cyber-bullying footprint, utter filth and vitriol she has penned against numerous individuals under the guise of Pranic Princess, Nobody's bitch, and Darkly Venus. Imagining herself as 'Esther Rockett, Health Care Activist', will not make her lies and distortions true.'
And later on the same day another emailed statement to Jane Hansen that refers to the outcome of the false allegations and consequently to the real quality of her informants Lance Martin and Esther Rockett:
'Again – you have been informed of allegations that will go nowhere. Yes, they look good for a journalist, dressed as if there is something wrong. But, like all before, it will be nothing more than trumped up allegations. A complaint to an authority does not make the complaint true Ms Hansen. And the tactic of a journalist riding a complaint is well known to me. Though I must say that at first, I was amazed at how low one would stoop to do their job and chase a possible award, but thanks to time, truth and its natural justice, I see that for some the sensation and the thrill is greater than truth and common decency. Is it a wonder why the public do not trust the media? No, it is not because they are not as stupid as they are held to be.
As an alternate possibility, you may want to write about an extraordinary Charity, where real philanthropy is its core design and as such will be its delivery. Now there is an unusual, don't you agree?
Consider this Ms Hansen, unlike many, I have the resources to sue Mr Martin and Ms Rockett for defamation. But why haven't I? It is an easy victory given that they have no proof because there are no facts to their allegations. And with no assets or funds to pay for their crimes. When you have nothing to lose one can be as recklessly unaccountable as they please. Concocted lies do not convert to truths. Thus, what better way than to welcome with full transparency any complaint or investigation. Two years of vile accusations with no results. I ask you to consider if there is more at play here than you have been led to believe.
Of interest, we do know of your twitter association with the discredited and exposed cyber-bully Esther Rockett. You are just another one of her gang's strategies. Of course, you have the right to align to whatever you choose. And thus, I ask you this Ms Hansen, (asked with due and sincere respect with regard to much of your past work) — is it a case of you being used for the sake of their revenge campaign and you in turn using them for the sensation their lies can deliver, for the sake of some readership arousal? Or Ms Hansen, will you draw on your senses and consider different here?
Finally, I will give you a small glimpse of what will be found — with regard to the Charity and it being on my land and my building: there is no untoward personal gain whatsoever for me. In fact, there is personal loss for the sake of true Charity. Unusual yes. But then again so is much of what we have set new standards for over the last 15 years.
Ms Hansen, there is a great story here if the truth is told. Perhaps, it is too good to be told. I understand if the newspapers do not consider great Australian stories readership quality. But then again, it may be worth it.'
For more background on this story see:
https://www.universalmedicine.com.au/blog/veteran-journalist-jane-hansen-linked-cyber-bullies-latest-media-coverage-universal-medicine
https://www.universalmedicine.com.au/blog/veteran-journalist-appears-have-been-conned-anti-universal-medicine-spin